High Strength 19mm Bandwidth Stainless Steel and Carbon Steel T Bolt Spring Hose Clamp for Gas and Oil Ductwork Connection
Product Introduction:
T Bolt Spring Hose Clamp provides a quick, yet effective means of clamping a varity of fittings to a wide range of hose. Also clamp can do 360° sealing surface by using a shoe or formed brigde. This clamp's design compensates and provides constant tension to prevent leak paths due to temperature fluctuations. It is a high strangth, reliable clamp with numerous applications in both the commericial and industrial markets including hose and ductwork connections for air, oil, water, other types of low pressure fluid lines, engine air intake, exhaust, hose and filters. T Bolt Spring Hose Clamp typical Applications include heavy truck charge air and cooling systems.
Stainless Steel or Carbon Steel T Bolt Spring Hose Clamp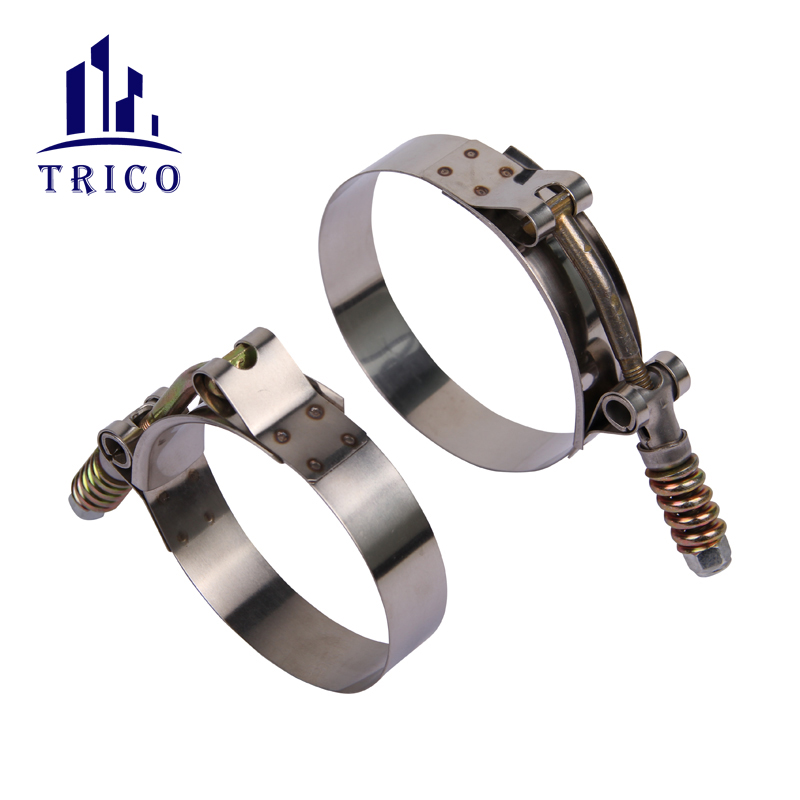 The following are some of the benefits and features of our Spring Loaded T-Bolt Clamp:
1.Auto-adjusting diameter helps maintain constant tension throughout extremely low or very high temperatures and thermal cycling
2.Spring-loaded design provides constant band tension and tight fit without needing adjustments
3.Durable, long-lasting design that withstands thermal stress and provides a high level of vibration, shock, temperature, and corrosion resistance
4.Rounded edges reduce the risk of damage to parts being clamped, including hoses in critical applications
5.Double-plated 300 series stainless steel with self-locking nut, bolt, and spring
Specification of T Bolt Spring Hose Clamp

Material

W2 Series: Band and Bridge plate are SS200 or SS300, others are carbon steel

W4 Series: All the parts are SS200 or SS300

W5 Series: All the parts are SS316

Size

(mm)

Bandwidth*Thickness

(mm)

Pcs/Bag
Pcs/Ctn

Ctn Siz

e(cm)

G .W ./Ctn

(kg)

Torque

(N .m)

55-60
19*0.6
10
250
40*37*28
17.00
≥15
63-70

19*0.6
10
250
40*37*28
18.80
≥15
64-71
19*0.6
10
250
40*37*28
18.90
≥15
67-75
19*0.6
10
250
40*37*30
18.90
≥15
70-78
19*0.6
10
250
40*37*30
19.00
≥15
72-80
19*0.6
10
250
40*37*30
19.00
≥15
73-81
19*0.6
10
250
40*37*30
20.30
≥15
76-84
19*0.6
10
250
40*37*30
20.40
≥15
77-85
19*0.6
10
250
40*37*30
20.40
≥15
79-87
19*0.6
10
250
40*37*30
20.50
≥15
83-90
19*0.6
10
250
40*37*35
20.80
≥15
86-94

19*0.6
10
250
40*37*35
21.00
≥15
87-95
19*0.6
10
250
40*37*35
21.00
≥15
89-97
19*0.6
10
250
40*37*35
21.10
≥15
92-100
19*0.6
10
250
40*37*38
21.10
≥15
95-103
19*0.6
10
250
40*37*38
21.10
≥15
99-106
19*0.6
10
250
40*37*38
21.10
≥15
102-109
19*0.6
10
250
40*37*38
21.60
≥15
103-110

19*0.6
10
250
40*37*38
21.60
≥15
105-113
19*0.6
5
100
40*37*24
8.70
≥15
107-115
19*0.6
5
100
40*37*24
8.80
≥15
108-116
19*0.6
5
100
40*37*24
8.90
≥15
111-119

19*0.6
5
100
40*37*24
9.00
≥15
112-120
19*0.6
5
100
40*37*28
9.00
≥15
114-122
19*0.6
5
100
40*37*28
9.10
≥15
130-138
19*0.6
5
100
40*37*34
9.10
≥15
132-140

19*0.6
5
100
40*37*34
9.20
≥15
138-146
19*0.6
5
100
40*37*34
9.30
≥15
140-148
19*0.6
5
100
40*37*34
9.40
≥15
152-160
19*0.6
5
100
40*37*37
9.50
≥15
155-164
19*0.6
5
100
40*37*37
9.50
≥15
182-190

19*0.6
5
50
40*37*34
4.80
≥15
187-195
19*0.6
5
50
40*37*34
4.80

≥15