PVC Coated P Clip
Advantages:
1. Easy to use, insulated, durable and long lasting. Effectively absorbing shocks and avoiding abrasion.
2. Perfect for securing brake pipes, fuel lines and wiring amongst many other uses.
3. Firmly clamp pipes, hoses and cables without chafing or damaging the surface of the component being clamped.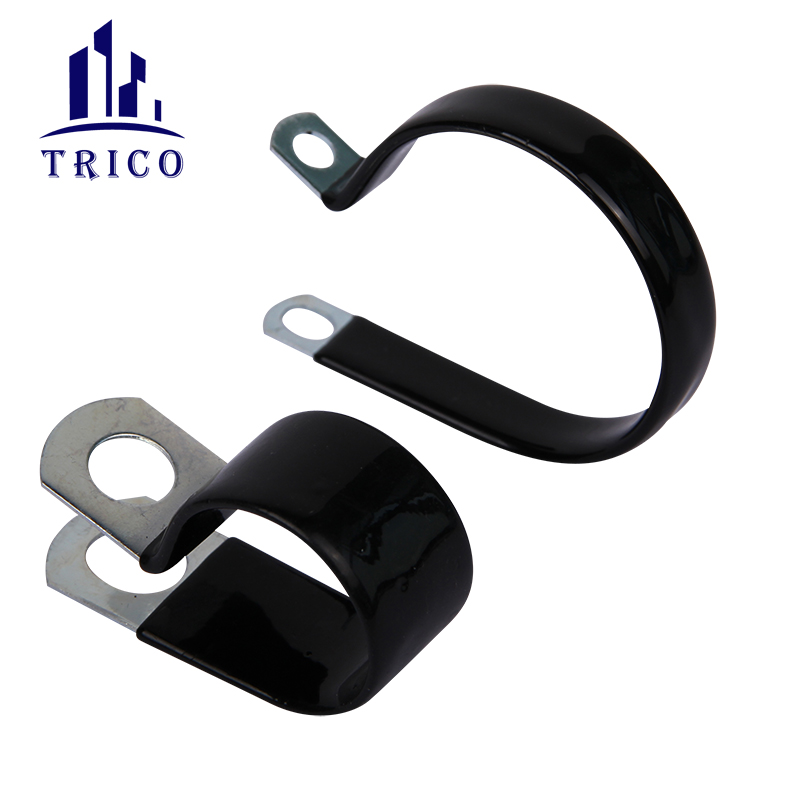 PVC Coated P Clip 12mm & 20mm

Material:

W1 series -- band is carbon steel

W2 series -- band is SS200 or 300

W5 series -- band is SS316

Size

(mm)

Bandwidth *

Thickness

(mm)

Hole Size
Pcs / Bag
Pcs / Ctn

Ctn Size

(cm)

G. W. / Ctn

(kg)

6
12*0.8
M6
50
2000
38*27*17
12.40
8
12*0.8
M6
50
2000
38*27*21
14.20
10
12*0.8
M6
50
2000
38*27*27
17.10
13
12*0.8
M6
50
2000
38*27*29
17.73
16
12*0.8
M6
50
1000
38*27*17
10.44
19
12*0.8
M6
50
1000
38*27*24
12.10
21
12*0.8
M6
50
1000
38*27*24
13.20
25
12*0.8
M6
50
1000
38*27*29
14.16
27
12*0.8
M6
50
1000
38*27*31
15.60
32
12*0.8
M6
50
500
38*27*24
10.57
35
12*0.8
M6
50
500
38*27*34
14.60
40
12*0.8
M6
50
500
38*27*29
9.04
50
12*0.8
M6
25
500
38*27*29
10.80
60
12*0.8
M6
25
250
38*27*24
6.90
6
20*0.8
M8
50
1000
38*27*19
16.60
8

20*0.8
M8
50
500
38*27*15
9.80
12
20*0.8
M8
50
500
38*27*17
11.50
14
20*0.8
M8
50
500
38*27*17
12.50
16
20*0.8
M8
50
500
38*27*19
12.80
18
20*0.8
M8
25
500
38*27*24
12.38
20
20*0.8
M8
25
500
38*27*27
14.50
22
20*0.8
M8
25
250
38*27*17
7.50
24
20*0.8
M8
25
250
38*27*17
8.00
26
20*0.8
M8
25
250
38*27*19
8.20
28
20*0.8
M8
25
250
38*27*21
8.50
30
20*0.8
M8
25
250
38*27*21
9.40
32
20*0.8
M8
25
250
38*27*21
10.00
38
20*0.8
M8
25
250
38*27*29
11.00