Aluminum Formwork is popular formwork system for construction. With Full Tie, Nominal Tie, AL Flat Tie and different wedge bolt to lock panels. Related accessories include AL Sepa Tie, Waler Bracket, Turnbuckle, Gang Form Bolts, One Touch Clamp and so on. Since 2002, we export those products to different countries. Welcome your inquiry.
Aluminum Formwork Accessories
Product: Stub Pin
Product: Full Tie Pin

Advantage: Heat

Treatment

Material: Carbon Steel
Material: 45# Steel
Length: 50L/52L/65L/195L
Weight: 71g/103g/178g
Surface: Black/ Zinc
Surface: Black
Accessories: AL Tie /Wedge
Accessories: Full Tie/Nominal Tie/Wedge
Related Accessories


AL Flat Tie

100L-1200L

Material: Carbon Steel

Thickness:1.85mm-2.0mm

Packing: Bundle+Pallet

Main market: Korea/Vietnam

Wedges, Waler Bracket,

Turnbuckle, Anchor Bolts

Supporting

Full Wall Ties&Nominal Wall Ties

6"-24"

Ultimate:7200lbs

Packing: Bundle+Pallet


Main market: Europe/America

Wedges, Turnbuckle

Supporting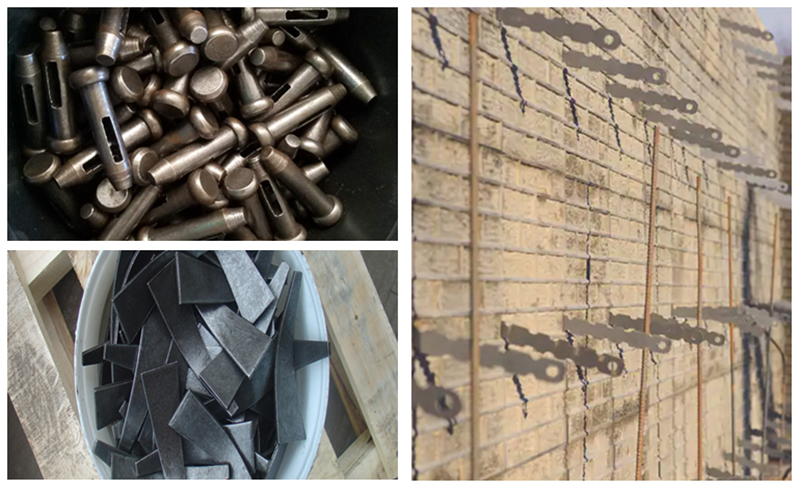 Related Formwork and Scaffolding Accessories

1) Aluminum Formwork System Accessories: AL Flat Tie, Full Tie, Nominal Tie, Standard Pin. Wedge Bolt, Waler Bracket,etc.
2) Steel Ply Forming System Accessories: X-Flat Tie, Wedge Bolt, Wedge Pin, SnapTie, Steel Wedge, Jahn Clamp, Turnbuckle, Z Tie Holder, etc.
3) Formwork Tie Rod System: Tie rod, Tie Nut, Swivel Wing Nut, Waller Plate, Formwork Clamp, Hex Nut
4) Form Tie System: B Form Tie, Plastic B Cone, Rib Washer, Hex Nut, Plastic D Cone, D Form Tie, D Inner Uint, etc.
5) Scaffolding System: Ringlock System, Cuplock System, Scaffolding Frame, Scaffodling Coupler, Scaffolding Safety Net, etc.
6) Plastic Accessories: Plastic Hollow Formwork, Plastic Spacers, etc.
7) Building Fasteners, etc.