Waste plastic recycling cycle can be used to make building templates. However, building templates made of wood and bamboo can not be reused and waste wood resources. In today's environmentally conscious, it is an inevitable trend to replace wood with plastic, which not only saves 15% of the overall cost, but also 100% recycling. Reuse to protect the environment.Nowadays, new Hollow Plastic Building Formwork have become the focus of the construction industry.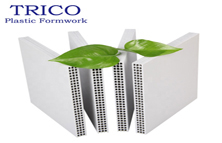 Plastic Construction Formwork
With the advancement of technology, reinforced concrete has gradually become the main building material of modern architecture. However, in the process of concrete pouring, the building formwork has to be used. In recent years, Plastic Construction Formwork has been greatly developed in China, and it has been widely used in construction engineering and bridge engineering, and has achieved good economic and social benefits.
The hollow plastic template has many advantages such as light weight, high impact strength, convenient assembly, high turnover rate, acid and alkali resistance, no cracking, wide board width,sawing, nailing, and processing into any length. Pastic Formwork Board is an energy-saving and recyclable green environmental protection product, which not only meets the requirements of construction technology, but also increases the number of turnovers and saves wood resources. Colleagues have also reduced the capital investment of construction units and gradually become an alternative steel plate and bamboo wood. New template for sheet metal. At present, some financial companies and large enterprises have begun to understand and pay attention to the plastic formwork market and have already contacted and intend to enter the production leasing model. The production enterprises are engaged in the leasing mode and the aluminum frame combination leasing mode according to the requirements of high standards and high quality, and the prospects are very good.
In the next 3-5 years, some large plastic formwork companies will develop and become leading enterprises, and the market's preference and acceptance will be higher and higher. At present, some tenders have already indicated the use of plastics. template. China has continuously increased its protection of the ecological environment and has stopped commercial logging of natural forests. At the same time, the state actively advocates the concept of energy saving, environmental protection and green building. It is inevitable to promote the use of green materials such as plastic formwork in the construction field. "To replace wood with plastic" is not only a slogan, but also an important measure to respond to the country's efforts to strengthen ecological civilization.
In the context of rapid social progress, the market size of plastic building templates in the construction sector will only grow larger. And with the increasing demand for formwork in the construction industry, reliable plastic building templates have gradually replaced traditional templates, successfully catching up with the golden opportunity of development. It is precisely because of the environmental advantages of plastic building templates that they can now be promoted to build a conservation-oriented society and become a new generation of "darlings" in the construction industry.