Constrcution Scaffolding Coupler Specifications
Commodity

Standard

Type

Size

Weight




JIS/Korea

Pressed

Swivel Coupler

48.6*48.6mm

48.6*60mm

560g/580g

600g/630g

JIS/Korea

Pressed

Fixed Coupler

Double Coupler

48.6*48.6mm

48.6*60mm

560g/580g

600g/630g

JIS/Korea

Pressed

Single Coupler
48.6*48.6mm
300g

BS1139/EN74

Pressed

Swivel Coupler
48.3*48.3mm
0.98-1.0kg

BS1139/EN74

Pressed

Fixed Coupler

Double Coupler

48.3*48.3mm
0.8-0.85kg

BS1139/EN74

Drop Forged

Swivel Coupler
48.3*48.3mm
1.12-1.15kg

BS1139/EN74

Drop Forged

Fixed Coupler

Double Coupler

48.3*48.3mm
0.98-1.0kg

BS1139/EN74

Drop Forged

Board Retainning Coupler
48.3*48.3mm
0.6-0.63kg

BS1139/EN74

Drop Forged

Putlog Coupler
48.3*48.3mm
0.6-0.63kg

BS1139/EN74

Drop Forged

Girder Coupler
48.3*48.3mm
1.45-1.5kg

BS1139/EN74

Pressed

Sleeve Coupler&

Joint Pin Coupler

48.3*48.3mm

0.92-0.98kg

0.62-0.65kg

BS1139/EN74

Pressed

Ladder Coupler

48.3*48.3mm
0.46-0.5kg
Casting Iron
Swivel Coupler
48.6*48.6mm

0.75kg/0.8kg/0.9kg

/1.0kg/1.1kg

Casting Iron

Fix Coupler

Double Coupler

48.6*48.6mm

0.75kg/0.8kg/0.9kg

/1.0kg/1.1kg

Casting Iron
Joint Coupler
48.6*48.6mm

0.75kg/0.8kg/0.9kg

/1.0kg/1.1kg
All of our scaffolding couplers are zinc plated for longer life, manufactured to BS1139 & EN74 & JIS and tested to ensure the highest level of quality control.
This fitting is the cornerstone of any scaffold framework used together with single, sleeve and swivel couplers.
Besides, we also supply scaffolding frames, steel plank, screw base jack and u jack and ringlock scaffolding system.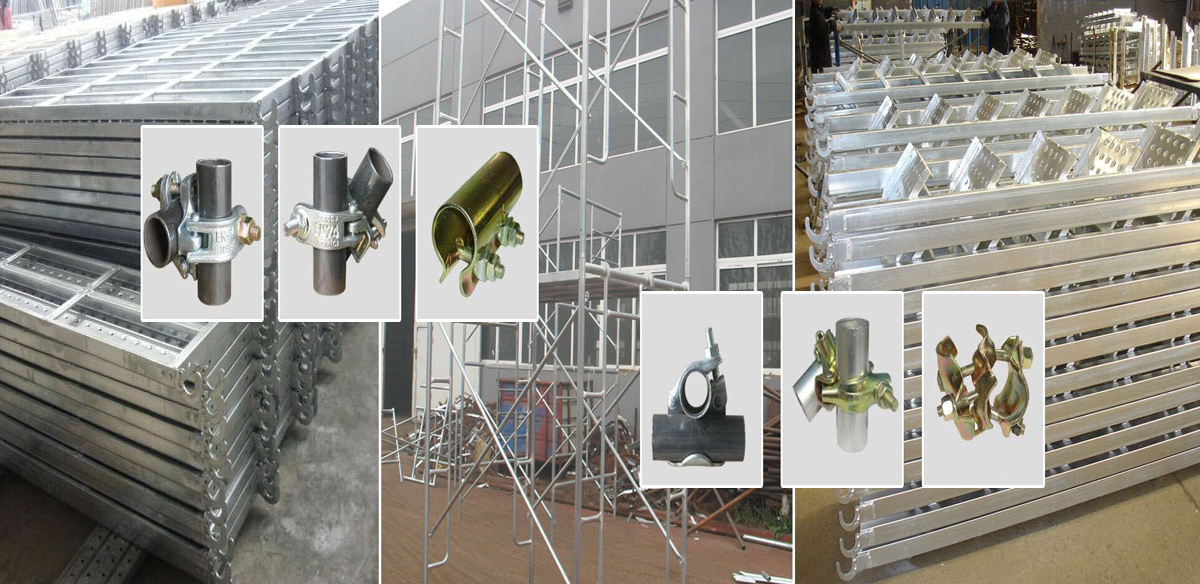 Five Promises:
1.Quality: Strictly control the quality through three levels. First level, quality test on the producing line. Second level, quality test during warehousing. Third level, quality test before loading.
2.Timeliness: 24 hours online.Provide consulting and quotation services for customers all the time.
3.Veracity: Strictly follow the customer standard to ensure the tolerance range and meet customer's requirement.
4.Integrity: If The customer complains about the quality of the products, our company will actively cooperate with them to solve the problem. If it is the responsibility of our company, we will bear the corresponding responsibility and compensation.
5.Longevity: Establish good long-term relationship with customers.