As the advantages of plastic building templates are gradually recognized by everyone, more and more people begin to buy the Plastic Construction Formwork and use them as the main building template materials. Nowadays, most people have a good understanding of the advantages of plastic formwork, but they do not have a comprehensive understanding of the advantages of plastic formwork.
The turnover of plastic building templates is very high, can reach more than 60 times, and can be recycled. The temperature adaptation range is large, and the specifications are adaptable. It can be sawed and drilled and is easy to use. The flatness and smoothness of the surface of the formwork exceed the technical requirements of the existing fair-faced concrete formwork. It has the functions of flame retardant, anticorrosion, water resistance and chemical resistance, and has good mechanical properties and electrical insulation properties. It can meet the requirements of various cuboid, cube, L-shaped and U-shaped building formwork. The plastic building template is a composite material that is extruded through high-temperature 200 ℃ extrusion on the basis of digesting and absorbing European advanced equipment manufacturing technology and half-high processing experience.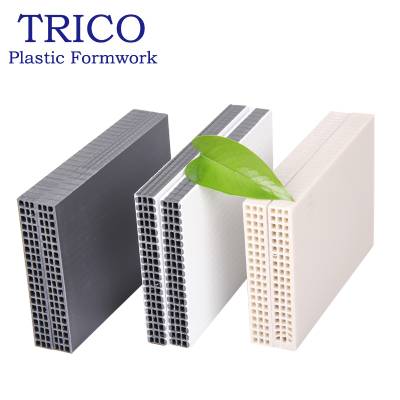 EM-CDT81
Flat and bright. The plastic splicing of the Formwork Plastic is precise and smooth, and the surface layout and brightness of the concrete layout after demoulding exceed the technical requirements of the wooden formwork, eliminating the need for secondary plastering, saving labor and materials. Light and easy to install. Light weight, strong process compliance, capable of sawing, planing, drilling, nailing, can form any geometric style at will, to meet the needs of various types of equipment support. Plastic building templates are easy to demold. The concrete does not stick to the slab surface, no mold release agent is needed, the mold release is easy, and the dust is easy to clean. Consolidate weathering. High mechanical strength, no shrinkage, no swelling, no cracking, fixed shape, solid size, alkali resistance, anti-corrosion, flame retardant and waterproof, and mouse and insect resistance under the temperature condition of -20 ℃ to 80 ℃.
Plastic Formwork is conducive to maintenance. The template does not absorb water and does not require special maintenance or storage. Strong variability. Varieties, styles and specifications can be customized according to equipment engineering requirements. Energy saving and environmental protection. All the scraps and waste templates can be taken over for recycling with zero waste discharge.