What is Plastic Formwork Board?
Hollow plastic building formwork is a kind of energy-saving and green environmental protection product, pp plastic combined with macromolecule nano-technology. Now PP hollow formworks are more widely used in the worldwide these years. PVC formwork is a old products, it is almost eliminated in building formwork market due to his disadvantages. So Hollow Plastic Formwork is your best choice.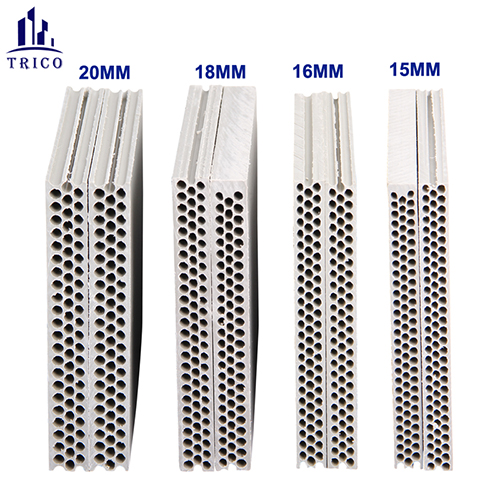 Advantages of Plastic Formwork Board
1.Waterproof
Hollow plastic formwork is weather-resistant, rain and shine are no longer an issue.
2.Light weight
It is lighter, easier to carry and release worker from heavy labor. Manual operation,no crane required reduce 20% labor cost than plywood
3.Surface does not require maintenance
High pressure water jet flushes the surface of the plastic template, but the metal formwork requires surface maintenance.
4.High workability
User-friendly, work well with saw, nail, dirll, cut, etc.
Compatible with other materials such as wood,steel, aluminum, etc.
5.Save cost
1sets formwork can finish whole high building 2*35 floors. Save 60% total budget than plywood and metal formwork.
6.High temperature resistance
The material is polypropylene, the melting point can be as high as 167℃.PP vicat softening temperature of 150℃
7.New Design of Round Hole Plastic Formwork Board
Round hole triangle type setting, stable structure makes formwork more durable and stronger.
Round hole cross layout, increase the contact area with the nail, increase the friction, larger nail holding force
The internal tree structure disperses the bearing capacity of the surface. With greater bearing capacity, stronger surface and less damage.
The design of the round hole reduce the thermal expansion and contraction.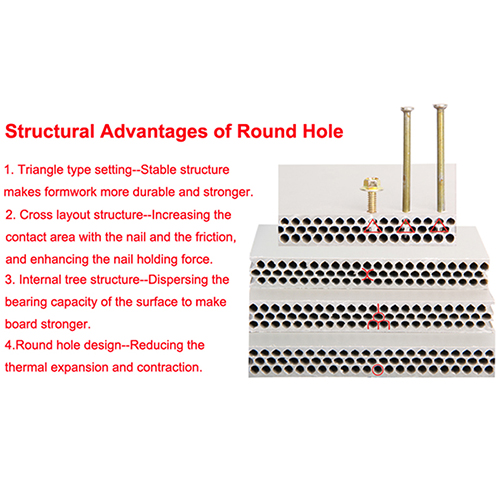 Construction Effects