Steel Plywood Forming System Accessories
Commdity
Type
Specification
Usage

Wedge Bolt

Short Wedge Bolt

24g


The short bolt eliminates the need to

short stop standard wedge bolts.

Can be used to attach inside corners and

pilaster forms to Steel/Plywood forms.

Standard Wedge Bolt

28g


The Standard Wedge Bolt is the most

common wedge bolt used to assemble

forms.

Long Wedge Bolt
37g


The Long Wedge Bolt is used when

attaching steel fillers to panels and fillers.

Adjustable Wedge Bolt
81g


Adjustable Wedge Bolt is used to attach

steel fillers to panels and fillers. Works well

when 2 steel fillers are next to each other.

X Flat Tie

Standard Flat Tie

4-48"

Other Size

Available

Ultimate 6000lbs

X Flat Tie is used to lock steel panel and

fillers during wall concrete

Heavy Duty Flat Tie

4-48"

Other Size

Available

Ultimate 7000lbs

Steel Ply Panels&

Fillers

Euro Form

Korea Steel Panel




Height: 2"-10"

Width: 4"-24"

Inner Corner and

Outer Corner

Available

Rugged steel frames are robotically

welded for consistent strength and fit

across all panels, fillers and corners.

Exclusive DuraCoat powder coating

helps keep the frame rust-free under

the harshest conditions.

Related Accessories
Open Face 1pc Waler Bracket, Z Tie Holder, Plylag Gang Waler Rod, J Hook, Loop Tie, etc.

Steel Ply Forming System is very popular for wall concrete construction.

Conveniently located handles make set up, stripping and handling easier.With proper care contractors can expect that forms will be able to be reused up to 200 times before plywood needs to be replaced.Compatible with all other industry standard modular handset systems.
All sizes of heavy duty loop ties, x-flat ties, wedge bolts, and accessories to offer the complete system.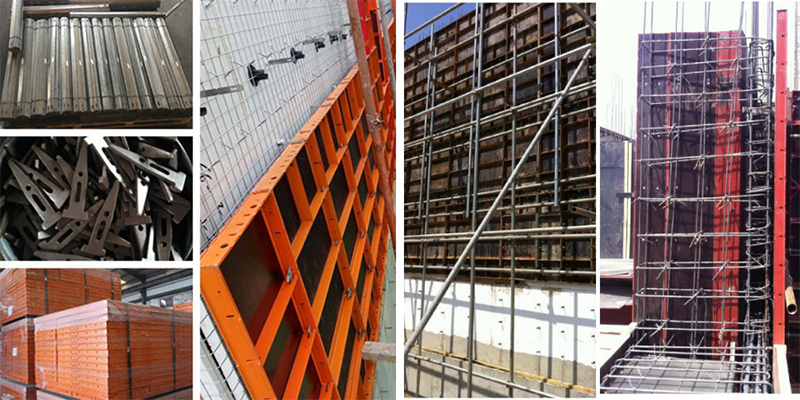 Five Promises:
1.Quality: Strictly control the quality through three levels. First level, quality test on the producing line. Second level, quality test during warehousing. Third level, quality test before loading.
2.Timeliness: 24 hours online.Provide consulting and quotation services for customers all the time.
3.Veracity: Strictly follow the customer standard to ensure the tolerance range and meet customer's requirement.
4.Integrity: If The customer complains about the quality of the products, our company will actively cooperate with them to solve the problem. If it is the responsibility of our company, we will bear the corresponding responsibility and compensation.
5.Longevity: Establish good long-term relationship with customers.